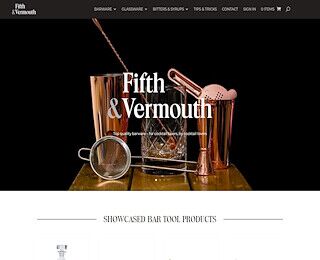 Quality Cocktail Shakers are a must-have for both home bars and professional establishments; to go without the basic accessories needed to mix, prepare, and serve popular drinks behind a bar would be like a mechanic trying to work on automobiles with a mix-matched set of tools. You'll be equipped for any drink request with one of our quality Shakers from Fifth & Vermouth. We have many classic and popular styles to choose from, including the Boston Shaker, New York Shaker, Montpellier Shaker, Deco Shaker, and Cobbler Shaker. Which one you decide to use behind the bar will depend on the types of drinks you commonly make.
Top Benefits Of Each Shaker Type
– There's no question that the Boston Shaker is the most popular style when it comes to mixing drinks, and while this two-piece Shaker Set does require a straining accessory, many bartenders cite the Boston Shaker as their first choice behind the bar because it's easy to use and keep clean. The no-frills Shaker is definitely a show-stopper in the hands of a professional; at first glance, you'll wonder how the bartender keeps the liquid from escaping during vigorous shaking. Once you get the hang of using one of these Shaker Sets, you'll never even consider switching to something else.
– For mixing cocktails with a flair, consider the new York Cocktail Shaker in copper or gold tone or classic stainless steel. The New York Shaker is a 3-piece Shaker that functions like a Cobbler Shaker with more of a trendy appearance. The sleek design will turn heads when you're behind the bar while the strainer will hold back ice and other large solids when pouring your guests' drinks.
– What's so great about the Montpellier Shaker? In a nutshell- everything. An elegant take on the classic Parisian Shaker, the Montpellier Shaker is a two-piece accessory with both top and bottom pieces that fit together perfectly. If you're a novice bartender or just learning how to mix drinks at home, you'll love that the Montpellier Shaker requires no learning curve. You'll experience a tight seal every time when performing a two-handed shake using this masterpiece- no worries that the liquid will come flying out of the shaker while you're practicing.
– Our Deco Shaker is a 3-piece item, similar to the Cobbler Shaker but with broad shoulders and a minimalist cap. Its 700ml capacity can enable you to build multiple drinks of the same type at once. We make the Deco Shaker available in classic Stainless Steel and a variety of finishes, including copper, gold tone, and gun metal black.
– It's said that the Cobbler Shaker is a beautiful thing to behold in the hands of a professional bartender- we don't deny the truth of this statement, rather, we take it to the next level by offering our customers the Type 97 Heavy Cobbler Shaker at a very affordable price. Our Cobbler Shaker is built with heavy-duty construction to allow it to withstand temperature fluctuation without warping or becoming damaged over time. Chill drinks quickly with our best Cobbler Shaker from Fifth & Vermouth.