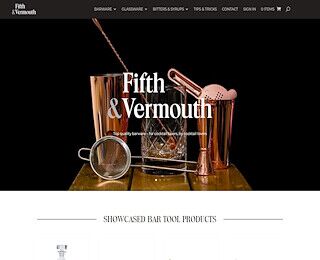 When shopping for a quality muddler that will last a long time, check with Fifth & Vermouth for a sound investment. We carry a terrific selection of bar and wine tools to help you make the perfect drink every time, whether you're equipping a home bar or a fine establishment. A muddler is essential to have on hand for times when guests or patrons request a drink muddled, which simply means it contains ingredients like fruits, citrus, or herbs that require crushing. Both alcoholic and non-alcoholic drinks can contain muddled ingredients; the muddling process releases the flavor and aroma of the muddled ingredients while insuring that they bind to the alcohol.
Picking Out A Muddler
Wooden and steel muddlers are the two most common types, each of which has its own pros and cons. Wood does a great job of muddling and is comfortable in the hand, although it can get stained over time and take on a less-than-professional appearance. Steel muddlers, on the other hand, are easy to keep clean, are safe to toss into the dishwasher, and may contain 'teeth' at the bottom to aid in the muddling process; however, steel muddlers are slippery and have the potential of breaking or chipping glasses.
At Fifth & Vermouth, we carry both wooden and metal muddlers in our collection; beautiful, high-quality tools to extract the essence of fruits, vegetables, and spices. We highly recommend our Stainless or copper Tomahawk Cocktail Muddler made with rubber rings for added grip and torsion when muddling.
Popular Muddled Drinks
There are numerous classic cocktails you can serve in your home that require muddling; with a bit of practice, you'll be able to serve family and guests Mojitos, Old Fashioned, Caipirinha, Caipiroska, and many others with your new muddler. Knowing how to muddle drinks properly requires attention to technique; within a short time, you'll be creating some of the classics like a professional. By selecting one of our quality bar tools, you'll avoid having to use a muddler and pestle.
Muddler Uses
Too little muddling can leave a bland-tasting drink, however, too much may release an unpleasant taste. You'll find the perfect balance in time- trial and error are enjoyable tasks when you can sample your own handiwork. Learn how to muddle cocktails on your own time, tasting as you go, and in no time at all, you'll have the knack for muddling.
To start, place the muddling ingredients in a cocktail glass or mixer and place a firm grip on the middler with your palm. Use your fingers to support the muddler as you work. Firmly press down on the ingredients and twist once to the left and the right. Repeat several times for each ingredient. Once you've gained experience in muddling, you'll find that muddled drinks will soon become some of your favorites to create for yourself and for guests.
Shop our entire inventory of barware, bar glasses, and Bitters & syrups online at Fifth & Vermouth. For customer support, feel free to contact us at 800-641-0339.