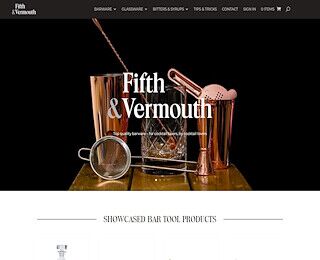 Shop for a complete bar set online at Fifth & Vermouth when you want quality and a stylish product. Our cocktail bar sets come with everything necessary for duplicating popular drinks and creating a few of your own. Give your family and guests a thrill by putting on a show for them with our Pro Series home bar accessories; with practice, you'll be making drinks like a pro in no time. If you're already a seasoned bartender shopping for a cocktail bar set, you'll want to take a closer look at our 6-piece Professional Cocktail Sets that include everything for both shaken and stirred drinks.
What's Included In Our Barware Tool Sets
Our classic 6-piece set includes all of the bar and wine tools required to deliver exceptional results when you receive a drink request:
Two-Piece Boston Shaker Set
Teardrop Bar Spoon
Stylish Kamakura Japanese Jigger
Crossed Aperture St George Cocktail Strainer
Small Fine Mesh Strainer
Etched Seamless Handmade Cocktail Mixing Glass 650ml
Why Invest In A Pro Bar Set
When guests arrive at your home, are you prepared for popular and unusual drink requests or do you run to the kitchen to retrieve accessories that you've forgotten to put behind the bar? Items like cumbersome kitchen strainers, milkshake tins, and ice cream spoons can diminish the professional look you're trying to achieve. Our Pro Series Cocktail Bar Set will keep you behind the bar where you have the right tools at hand. Get ready to be the center of attention, with plenty of 'oohs' and 'ahhs' from your company when you produce a Boston Shaker from behind the bar and expertly craft a Sidecar, Old-Fashioned, or chilled Screwdriver.
Pro Is The Best Way To Go
Amateur bartending tools will result in many inconsistencies when making drinks. To ensure you serve family and guests the perfect drink every time, you'll need a jigger for measuring, two types of strainers to keep herb and fruit pieces out of drinks, a quality shaker, and a few incidental items that will make your job a lot easier.
Glassware At Fifth & Vermouth
Serve drinks in our beautiful and affordable rocks glasses, coupe glasses, whiskey tumblers, and collins glasses. Everyone loves the look and feel of a quality cocktail glass when their favorite drink is served. Don't settle for kitchen glassware; our glasses are heavier and look professional. We recommend keeping a half dozen rocks glasses on hand, two double rocks glasses, four coupe glasses, and four collins glasses if you entertain a handful of guests from time to time. For larger crowds, consider investing in a dozen or so of each type of cocktail glass.
The best bartending kits are made to last, from quality materials that won't show wear in the coming months. There's no getting around the fact that you'll need to invest in a few bar accessories in order to maintain a home bar. You'll find what you need when you shop online at Fifth & Vermouth- and you'll find it all at some of the best prices around.